Eldorado craftsmen sort through tons of stone, piece by piece, selecting only the rocks that complement each other and have just the right shape, texture, size and detail. Their state of the art mold manufacturing facility is able to capture every textural detail down to the most finite level. And when you take a closer look at Eldorado Stone you will see the unmatched depth and variation of colors. With over 150 color palettes, 20 National Profiles and 30+ Regional profiles, there is an Eldorado Stone perfect for your next project. Talk to our sales team and let us show you the beauty of Eldorado Stone.
Ashlar
Eldorado's Ashlar profile is a more formal, rectangular-shaped stone that works well on larger surface areas. It ranges from 4″ to 12″ heights and 11″ to 26″ lengths.
Palette choices range from golden sand to slate and olive grays. Ashlar's pattern and scale ease installation making it perfect for large commercial applications.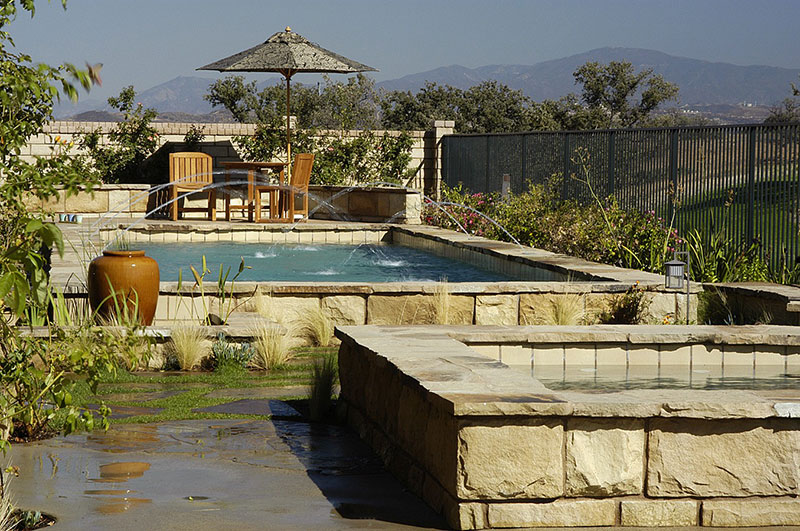 Bluffstone
Bluffstone is a narrow ledge stone in height with lengths from 7″ to 21″. Its average size is 3″ high by 14″ long. Available in a warm palette of tinted neutral grays, wine and hints of apricot, it's perfect for a tight, dry-stacked look.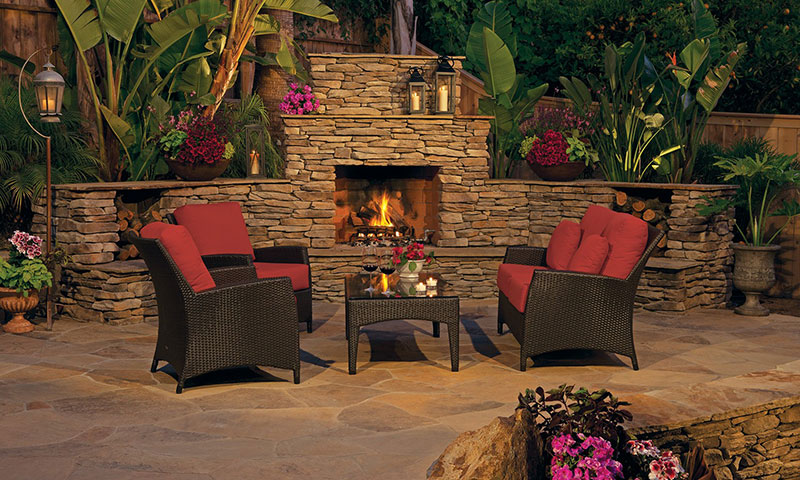 CaminoAdobe
From ancient dwelling to Southwestern pueblos, religious congregations and assemblies, adobe has provided character and warmth for centuries. Eldorado conveys that same endearing ardor for your home. Three warm, subtle color palettes comprise the adobe product line. Whether it's installed as a monumental façade or a simple retaining wall, Eldorado Adobe is the perfect complement that projects timeless Southwestern charm.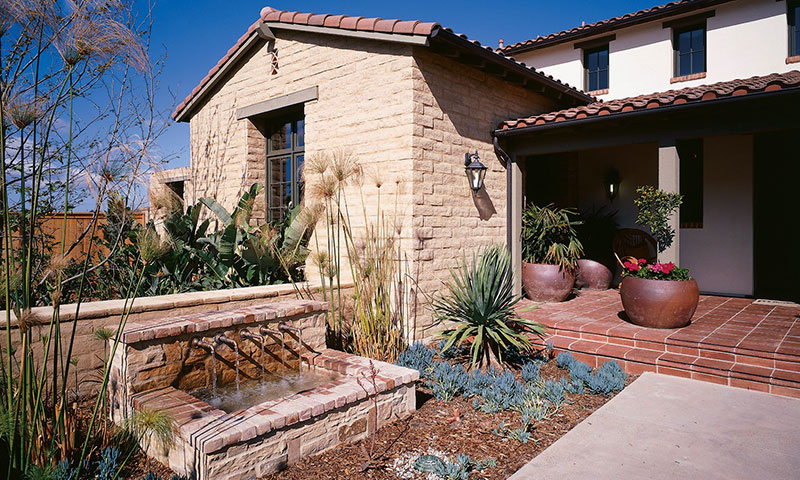 CapistranoAdobe
Cliffstone
Explore countless design options with this contemporary, versatile profile that gracefully compliments a variety of modern looks with refined, flat-planed faces and distinctive textural details.
Stone Dimensions (approx): 1.25″-6″ H x 4″-22″ L x 1″-2″ D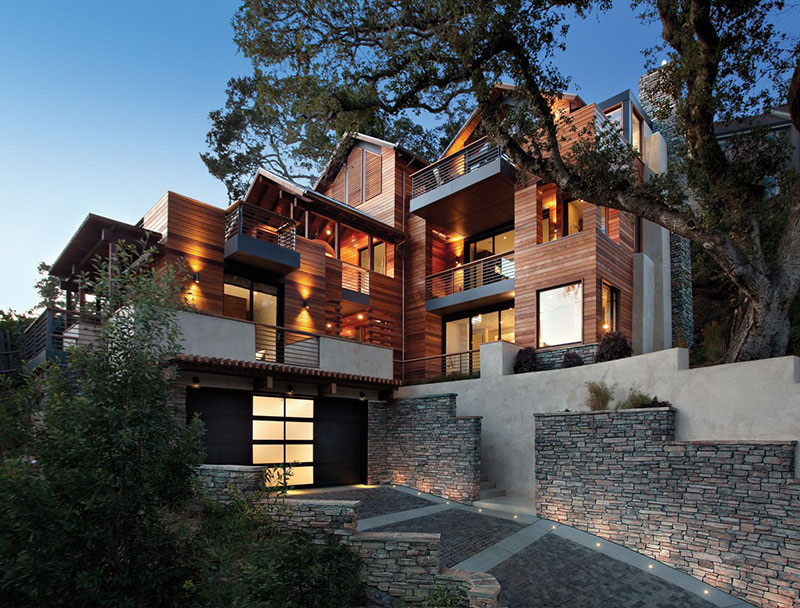 Coarsed Stone
Santa Barbara Coarsed Stone is a large scale cut stone. It is cut to a uniform 12″ height and comes in lengths from 12″ to 30″. Corner elements are impressively large with full returns.
Coastal Ledge
Coastal Ledge is a full scale ledge stone with softly eroded edges and a delicate fineness. The stones are elongated and distinctively shaped with subtle textural nuances. Stones vary in length from 4″ to 24″ and 1″ to 4″ in height. Colors range from sun bleached blonds and coppers to light lavenders and milky whites.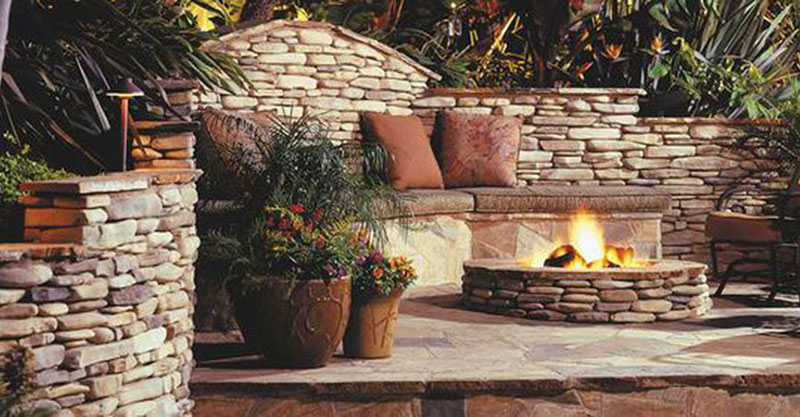 CoastalReef
Presenting the ocean-worn accents of coral, CoastalReef is a precision cut stone available in lengths of 4″ to 16″ and heights of 4″ to 12″. Its deeply faceted texture makes for a naturally beautiful range of color. CoastalReef's color palettes are culled from coral's organic blends of pearl and ecru.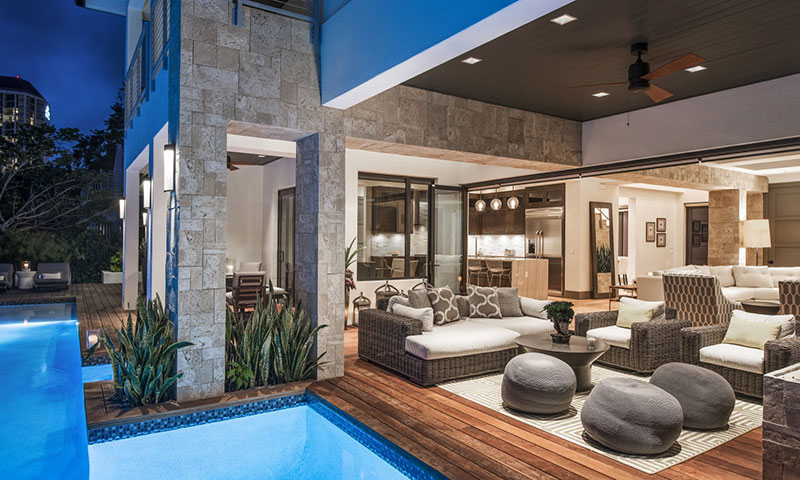 Cobblestone
Cobblestone is a distinctive selection of hand-dressed stones each with their own characteristic formality. It is a trimmed stone roughly shaped to an ashlar pattern with a rich sandstone texture. It is an ideal choice for larger residential or commercial projects.
Country Rubble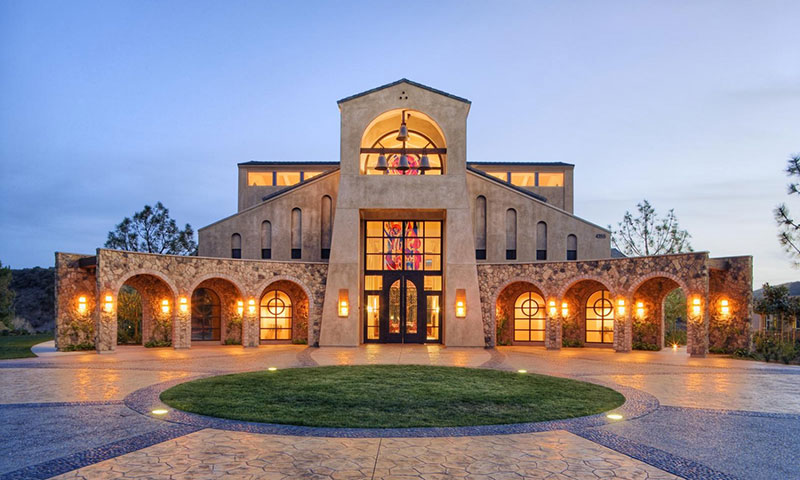 Cut Coarse Stone
Cut Coarse Stone is reminiscent of a saw-cut Turkish Limestone. The highly textural and yet contemporary linear-style installs with a clean, dry-stack application. This stone is the perfect scale for an efficient installation, appealing to both commercial and residential exteriors and interiors. The stones include three different heights of 3″, 6″ and 9″ and various lengths from 12″ to 24″. The muted color palette is indicative of natural limestone.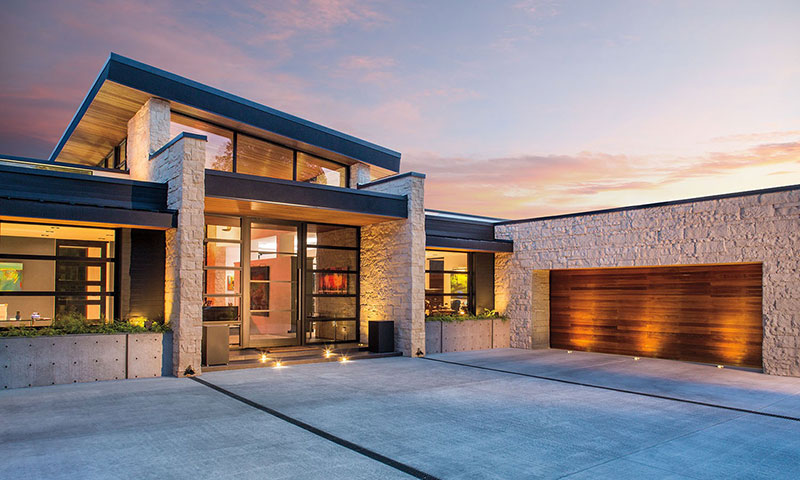 Cypress Ridge
Inspired by Italian and Provencal architecture, Cypress Ridge is designed to reflect the poetic harmony and enduring characteristics of age-old hilltop villages. A combination of irregularly shaped stones with colors ranging from sundrenched golds, earthy browns and faint olive green hues offset rust-colored accents to give each stone its own story to tell.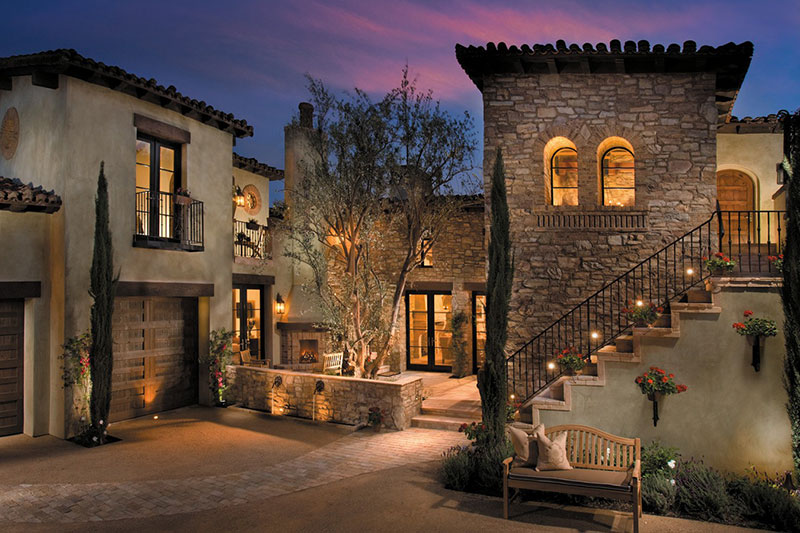 European Ledge
Introducing European Ledge®, A Modern Stone Fusion. European Ledge creates the perfect fusion between old-world stonework and modern design. Evoking a unique balance of weather-worn surface contours and precision-cut stone, this modern interpretation of split-face travertine is assembled into tightly stacked ledge pieces with varying surface heights and lengths. The distinctive appearance delivers a timeless feel to any exterior or interior environment.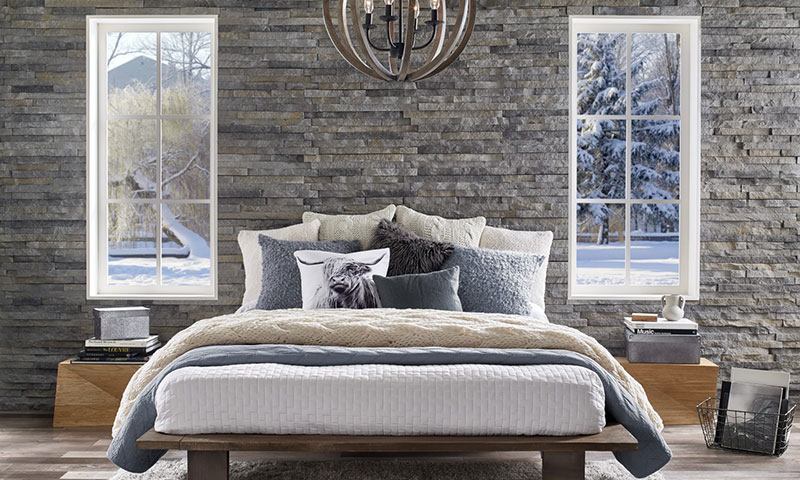 Fieldledge
Fieldledge is a hybrid of horizontally oriented fieldstones and ledge stones with heights from 1.5″ to 15″ and lengths from 5″ to 18″. The stone's old world quality and smoother face transitions between a rustic look and an articulated ledge. Fieldledge's color palettes range from cool to warm gray blends. Its sepia base and raw linen color is complemented by subtle khaki-greens and olives, warm ochres, chestnut browns and raw umber.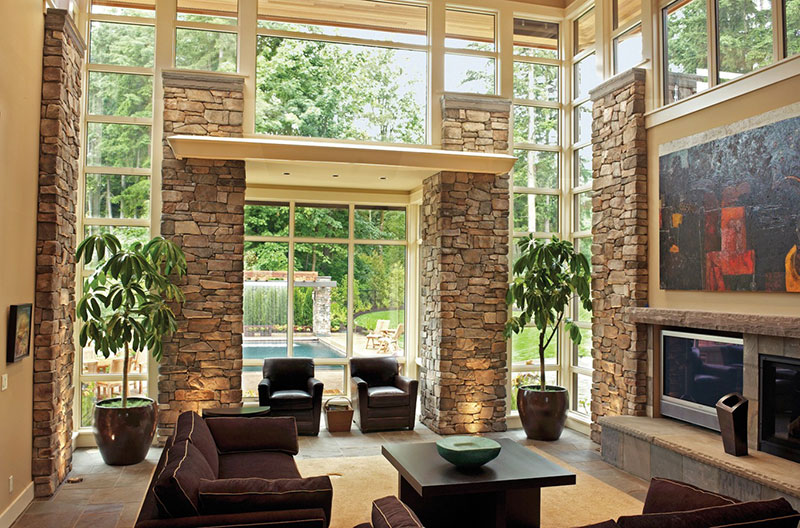 Hillstone
Hillstone is a distinctive hand-blended variety of stones in heights from 1″ to 12″ and lengths from 3″ to 18″. With a raw linen color base — hidden by generous swaths of sage and intertwined with hints of tan and ochre — it is rugged and rusticated with the characteristic randomness of the Tuscany countryside.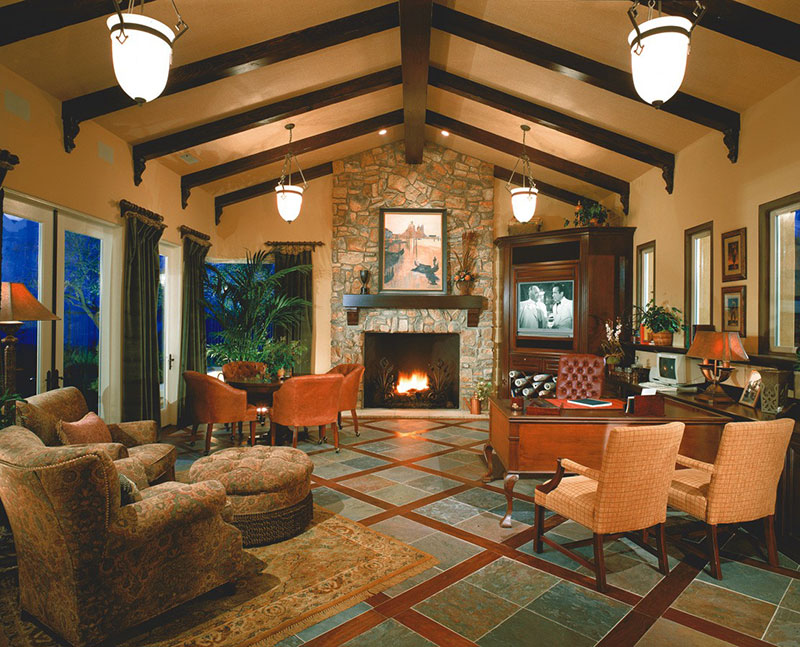 LedgeCut33
The number 33 represents the 3″ height and 3 different lengths of 12″, 18″, and 24″ of stone with LedgeCut33. Individual pieces guarantee a natural and authentic appearance which is easy to handle, cut, and install. LedgeCut33 is designed for a dry-stack installation and includes flat pieces and 90 degree corner pieces.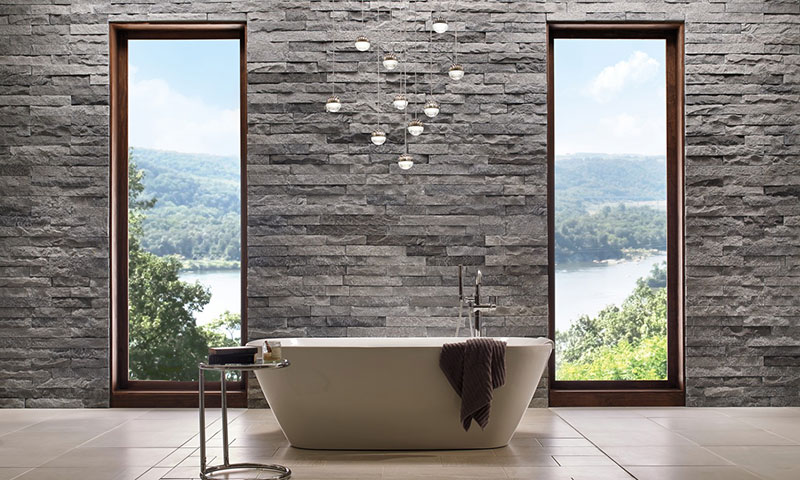 Lime Stone
Limestone is a tailored stone that conveys a traditional formality. It is a hand-dressed, chiseled textured stone roughhewn into a rectangular ashlar profile. This stone is medium in scale and ranges from 2″ to 8″ in height and 4″ to 17″ in length, and has an average stone size of 6″ by 12″. The distinctive color blends of Eldorado Limestone are versatile palettes ranging from lighter soft creams and golden umbers to light coffee, sienna rusts, and more deep moss greens.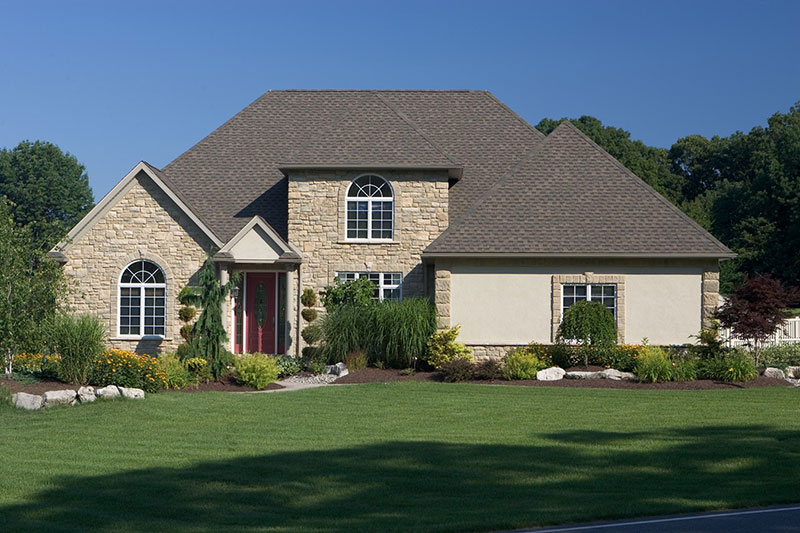 Longitute24
Create a calming environment with Longitude24. The big silky surface features a monolithic palette with natural color variations. Combine with any of our 12 x 24 stones for a unique textural blend.
Stone dimensions (approx): 12″ H x 24″ L x 1″ D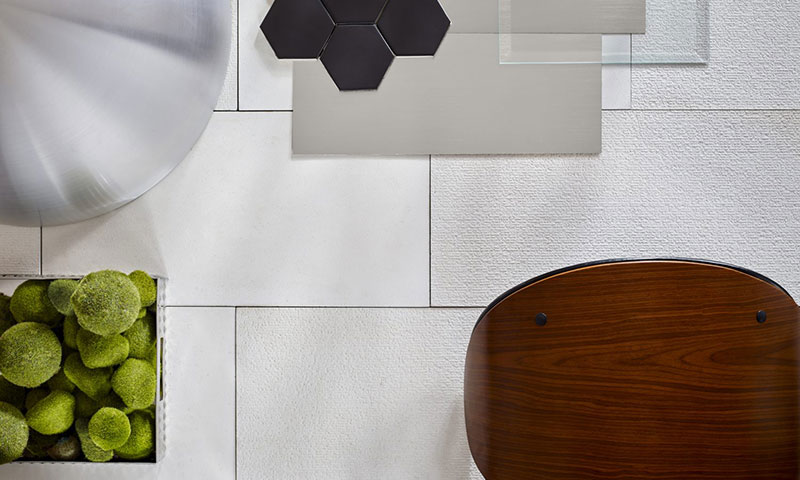 Marquee24
From refined residences to formal public spaces, majestic churches to modern skyscrapers – the versatility of limestone continues to be a key element of style for the ages. Eldorado Stone presents a new interpretation of this architectural powerhouse with Marquee24. Offered in sleek 12″ x 24″ stone veneer with the authentic textures and subtle hues of natural cut limestone, Marquee24 is sure to play an essential role in your memorable designs.
Stone Dimensions (approx): 12″ H x 24″ L x 1″ D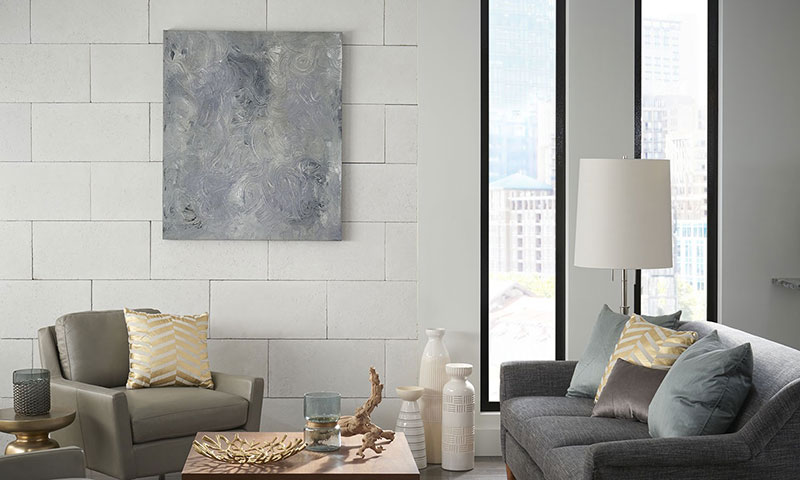 Mountain Ledge
The contemporary look, warmth and texture of Eldorado Stone's Mountain Ledge series is available in a variety of versatile earthen tone palettes. Proportioned to complement fascia accents and custom residences alike, these stones are sized to facilitate selection and reduce installation cost with incremental heights from 1″ to 4″ and lengths from 4″ to 18″.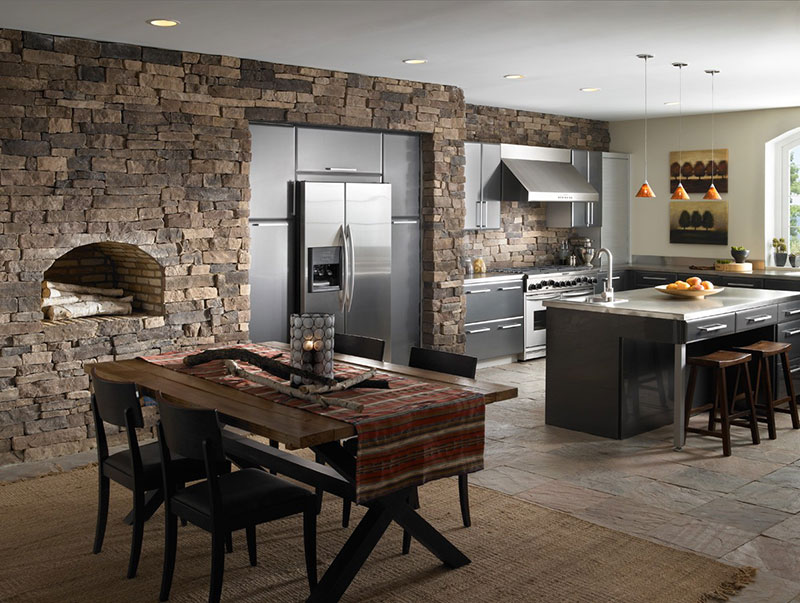 Mountain Ledge Panels
Mountain Ledge Panels are shaped like Eldorado's Mountain Ledge stones but they are precast as a panel system to facilitate ease of installation where larger stones are needed for a greater expanse or height. Available in blends of silver, auburn and sage, the 8″ to 20″ long panels retain the appearance and precision of individual Mountain Ledge stones hand-laid and dry-stack together.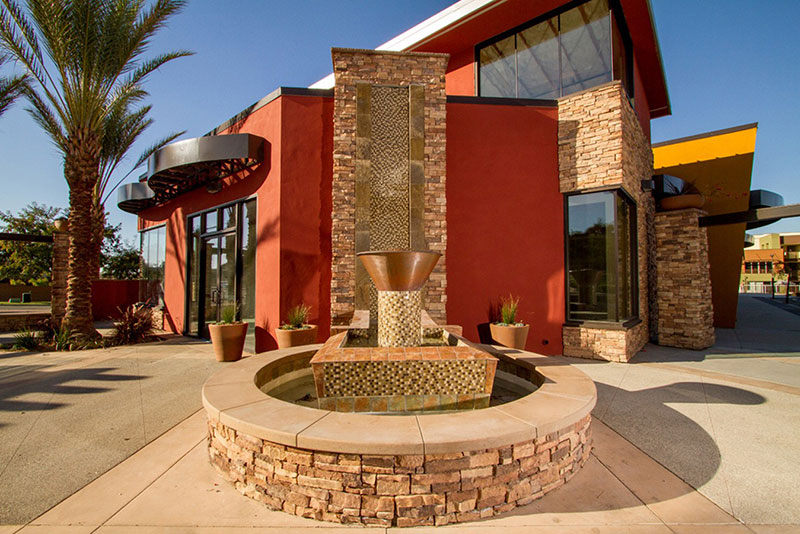 Ridgetop18
Blend modern and traditional with this large-faced stone that masterfully combines medium rocky texture, monochromatic colors and a cut that's perfect for stacking tight or as a contrasting band against smoother profiles.
Stone Dimensions (approx): 9″ H x 18″ L x 1″-1.625″ D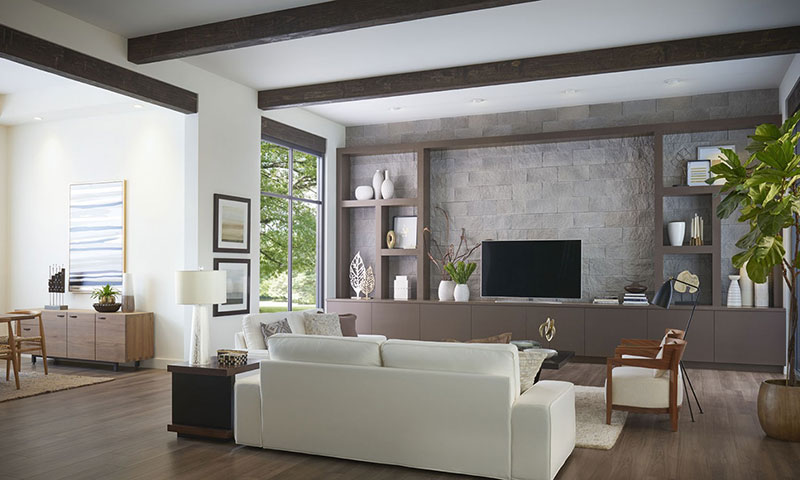 River Rock
River Rock — a full-sized stone with sizes up to 15″ — is meticulously re-created to capture the essence of a river rock with its characteristic shapes and deep naturally rounded stones. Stones are individually selected for their distinct irregularity and unique textural nuances water-worn into the surface.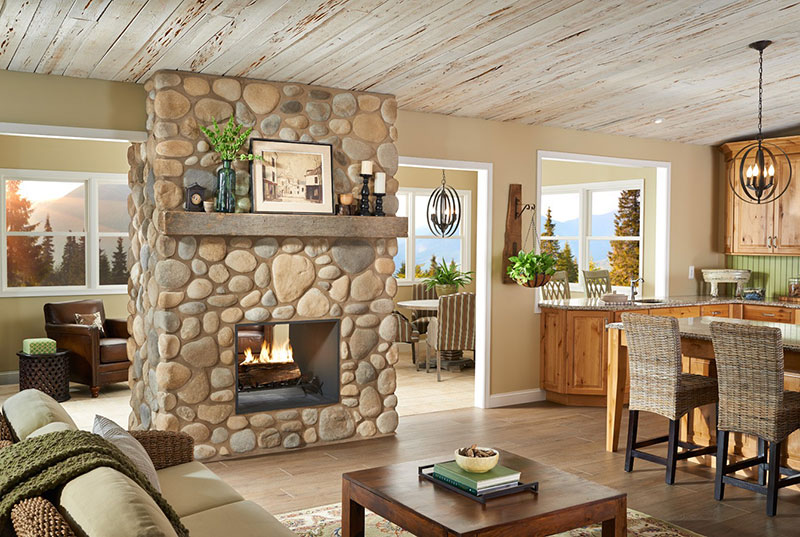 RoughCut
RoughCut mimics limestone with its embedded, fossilized artifacts and roughly cleaved, pronounced face. Shaped for bold, traditional statements with clean contemporary lines, RoughCut ranges in heights from 2″ to 11″ and lengths from 2″ to over 18″. The color palettes contain blonds, russet, and cool grays.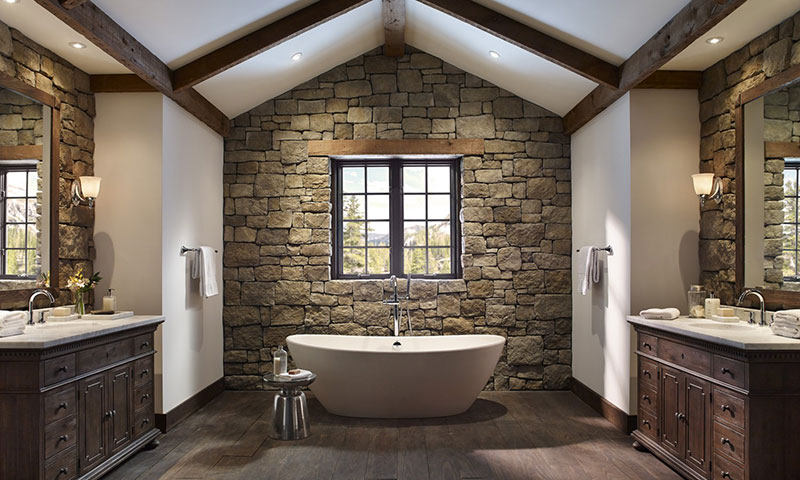 Rustic Ledge
Eldorado's Rustic Ledge is a textured and layered full-scale ledge stone with long dimensional stones. Split along parallel planes, the stones possess distinctive textural foliation and pronounced rock cleavage. The stone sizes range from 1″ to 4.5″ in height and 6″ to 20″ in length with an average of 3″ by 15″.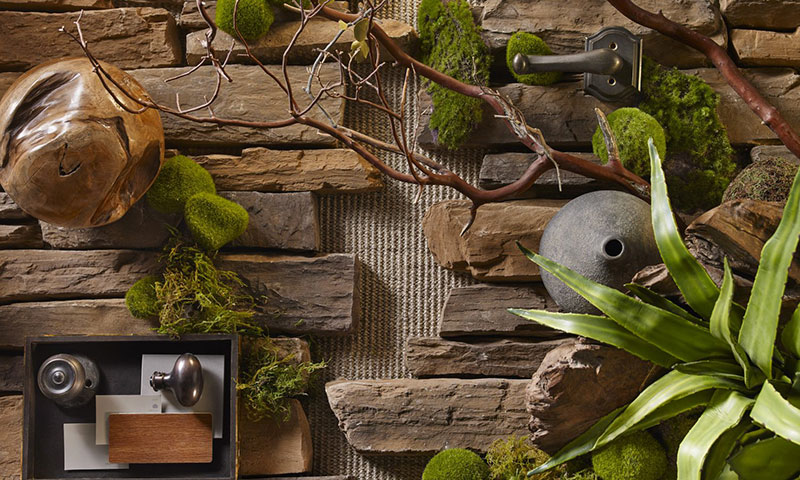 Shadow Rock
Dramatic in appearance with exceptional dimension and texture, Shadow Rock is the stone of choice for creative expression and masonry craftsmanship. Crisp angular facets and extraordinary depth creates textural surfaces with stones from 2″ to 10″ high and 5″ to 24″ long. Dramatic shadowing complements contemporary architectural designs as well as more rustic environs.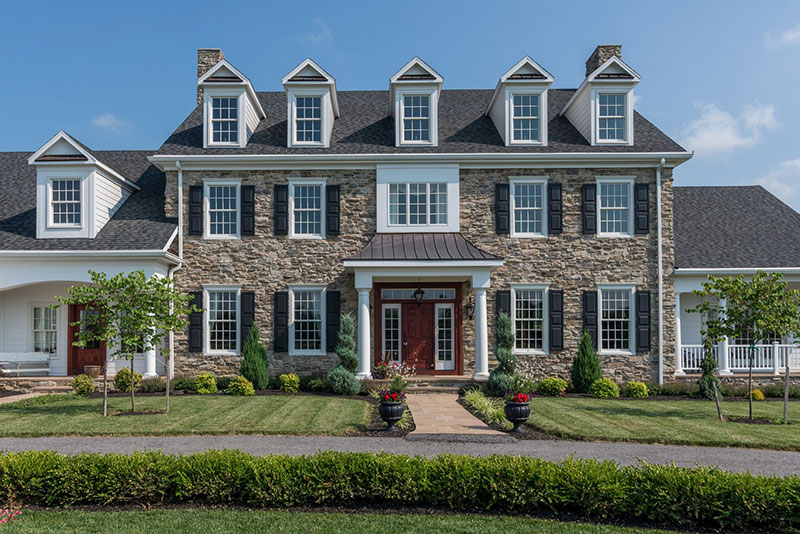 SierraCut24
Establish a strong presence with SierraCut24, one of our largest and most distinctive stone surfaces. The heavy rock texture stacks nicely as a foundational element or grand facade.
Stone Dimensions (approx): 12″ H x 24″ L x 1″ – 2.5″ D
Stacked Stone
The classic elegance and intricate detail of small stones combined with the simplicity of a panel system give this stone the appearance of a precision hand-laid dry-stack set. Stones 4″ high and 8″, 12″ and 20″ long makes installation easy for expansive walls and column fascias alike.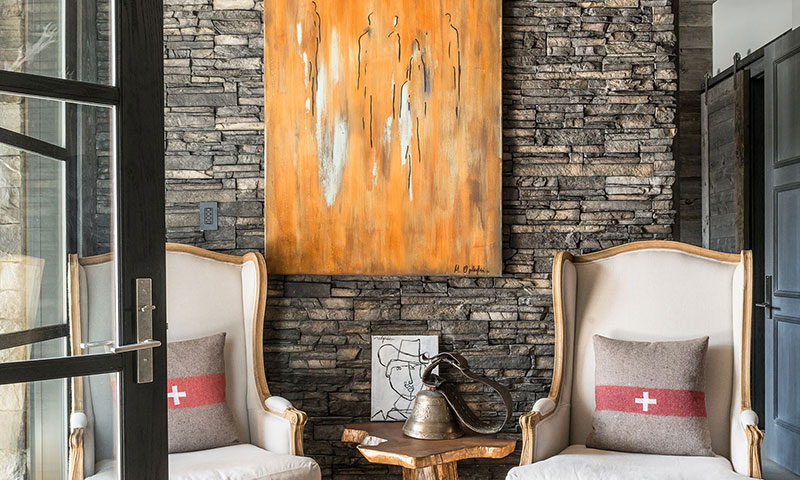 Vantage30
Vantage30 delivers a unique planking appearance with its long 30″ linear lines. The gentle textural surface brings an additional element of movement while uniformly stacking tight for clean installation.
Stone Dimensions (approx): 6″ H x 30″ L x 1″-1.625″ D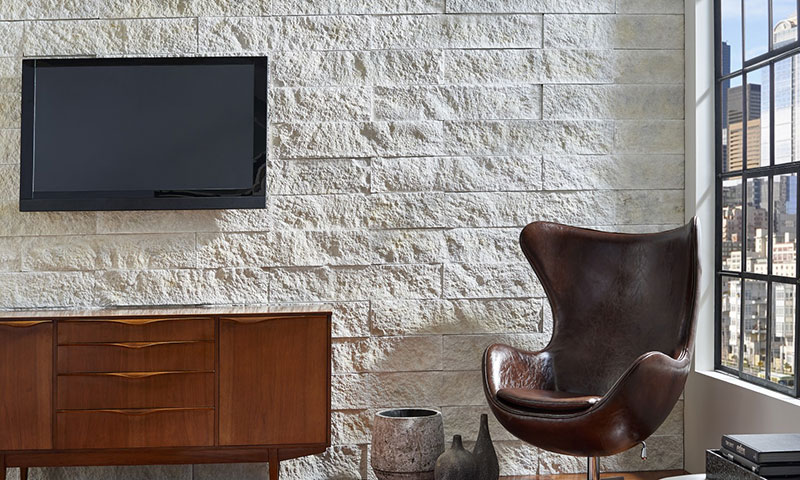 Vintage Ranch
Enjoy the warmth and inviting texture of Vintage Ranch, our authentic interpretation of reclaimed barn wood. This American classic is composed of hand-selected boards culled for their celebrated patina and timeless beauty.
Milled to 2″, 4″ and 6″ heights with subtle depth variations, Vintage Ranch has been designed as a panelized system for a quick installation process.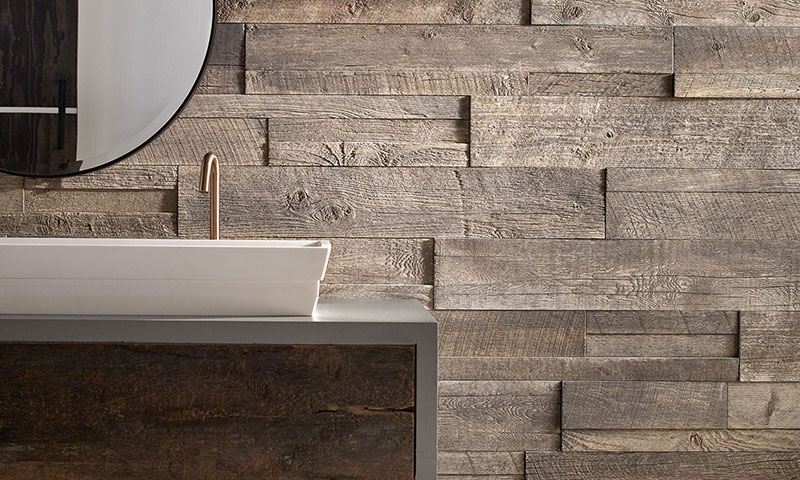 Zen24
Find balance with this large format stone that harmoniously blends into a space, but adds the light texture reminiscent of gently raked sand in a zen garden.
Stone Dimensions (approx): 12″ H x 24″ L x 1″ D