Arroyo Building Materials is the place to go when you need Bosch Power Tools for your projects. Bosch Tools and Accessories are designed with durability and efficiency in mind, ensuring that both professionals and hobbyists can take on any job. They manufacture durable lines of cordless and electric power tools, including drills, hammer drills, power saws, grinder, nailers and bits, blades, levels and more. We proudly sell top quality Bosch power tools and accessories at competitive prices while providing unmatched service and value. See a partial list of products in stock below.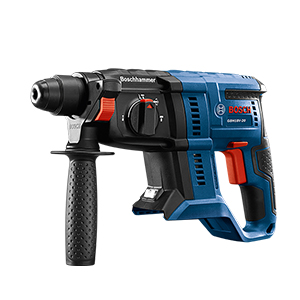 18V 3/4 In. SDS-plus® Rotary Hammer
The 18V 3/4-Inch SDS-plus® Rotary Hammer delivers an exceptional performance-to-weight ratio for anchoring in concrete, drilling in masonry, core cutting and chiseling. With 1.3 Ft.-Lbs. of impact energy and a no-load bpm rating of 0-5,850, this hammer works as hard as the user. It provides three modes of operation – rotary hammer, rotation only and hammer only.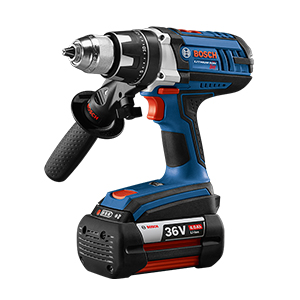 36V Brute Tough 1/2 In. Drill/Driver Kit
The 36V Brute Tough 1/2 In. Drill/Driver features a tool with corded-like power and long battery runtime, plus two 36V batteries and a 36V charger. The DDH361 drill tackles some of the toughest drilling and driving tasks on the jobsite. With a powerful four-pole motor, it produces up to 885 In.-Lbs. of torque. This variable-speed drill provides high-power (0-420 rpm) or high-speed (0-1,800 rpm) settings.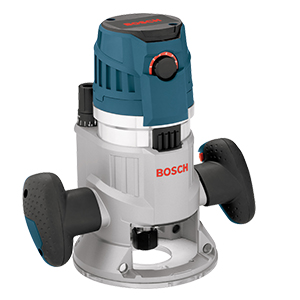 2.3 HP Electronic Fixed-Base Router
The Bosch 2.3 HP Electronic Fixed-Base Router delivers optimum user control, with the trigger-controlled power system that features a power switch in the fixed-base handle. This router has the power to get results, with its 15-amp motor and adjustable speed settings. The variable-speed dial allows the operator to set the optimal speed.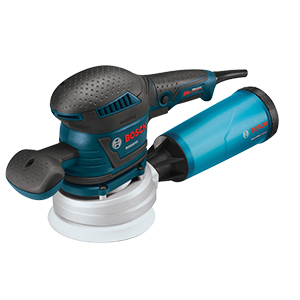 120 V 5 In. Random Orbit Sander/Polisher
The Random Orbit Sander/Polisher delivers a Vibration Control™ suspension system, which minimizes the amount of vibration that reaches the hands. This rear-handle sander allows for multiple ergonomic soft-grip positions, enabling comfortable two-handed or one-handed operation for superb comfort.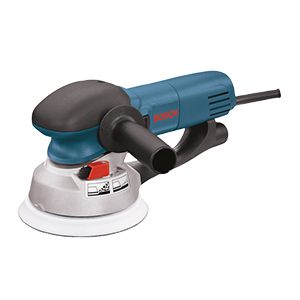 6 In. Dual-Mode Electronic Random Orbit Sander/Polisher
The 1250DEVS features two distinct sanding modes, an extremely aggressive turbo driven, eccentric orbit sanding mode for very aggressive sanding, as well as a conventional random orbit sanding mode for normal stock removal and fine finishing. With the flip of a lever, the sanding mode can be easily changed.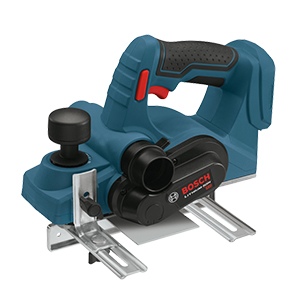 18 V 3-1/4 In. Planer – Tool Only
The Bosch planer is great for fast stock removal and leaves a smooth finish. This planer is ideal for trimming doors, and because it is cordless, it eliminates the possibility of running out of cord in the middle of a planing pass. The electronically counterbalanced single-blade system automatically positions the blade at the ideal cutting angle, and it eliminates uneven planing caused by misaligned blades.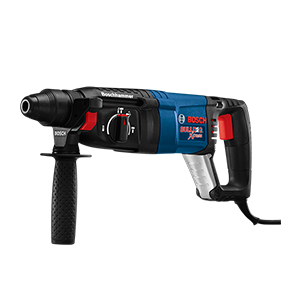 1 In. SDS-plus® Bulldog™ Xtreme Rotary Hammer
The 1 In. SDS-plus® Bulldog™ Xtreme Rotary Hammer is a versatile, handy tool that features a robust 8.0-amp motor. From anchoring to large material breaking, it gets the job done right the first time. Engineered in the tradition of legendary Bulldogs, this powerful hammer delivers 2.0 Ft.-Lbs. of impact energy and 0-5,800 no-load bpm, but it weighs just 6.7 Lbs.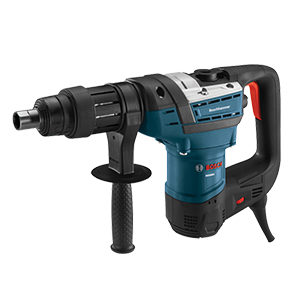 1-9/16 In. Spline Combination Rotary Hammer
The new spline combination rotary hammer from Bosch provides maximum productivity in all day drilling and chiseling applications. Equipped with 6.1 ft/lbs of impact energy (E.P.T.A.). The new RH540S provides up to 39% more impact energy versus the previous model for best in class performance. The new RH540S also provides variable speed. This delivers better bit control during application start-up.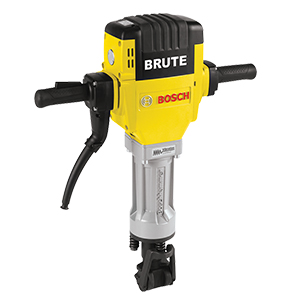 Brute™ Breaker Hammer
The Brute™ Breaker Hammer delivers the best concrete removal rate in its class, impressive for a tool that weighs just 63 lbs. Providing 1,000 BPM and 35 ft.-lbs. of impact energy, this tool can handle heavy-duty applications such as asphalt work or foundation removal. The Vibration Control™ system includes a longer air cushion in the hammer mechanism and shock-mounted handles.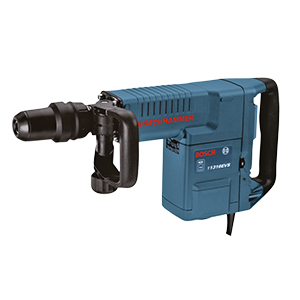 SDS-max® Demolition Hammer
Bosch hammers offer leading performance. A powerful 14 Amp motor with Constant Response™ circuitry. This provides a constant hard-hitting 12.4 Ft./Lbs. Of impact energy. Variable speed control allows users to adjust the impact force to the material being removed. The SDS-max® tool holder provides you with the largest assortment of Bosch brand steel accessories for every job.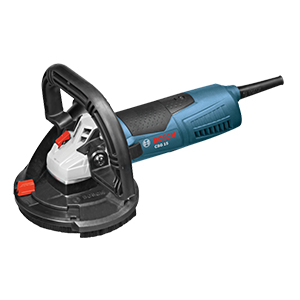 5 In. Concrete Surfacing Grinder with Dedicated Dust-Collection Shroud
The 5-In. Concrete Surfacing Grinder has a dedicated dust-collection shroud for a cleaner work environment, as well as plenty of power. It delivers 12.5 AMPs and up to 9,300 RPM, for concrete grading, surface preparation and other tough concrete applications. Its dedicated dust guard system is a comprehensive solution for collecting dust that allows grinding flush against walls.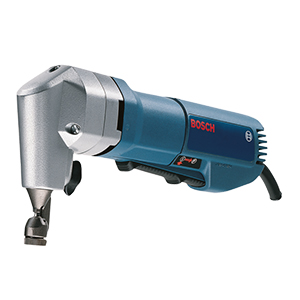 18 Gauge Nibbler
Bosch Power Tools deliver stronger performance and lasting reliability. Unique cutting head designed for multiple types of corrugated steel. Features: 3.2 Amp, 2500 SPM. Ejects chips downward away from operator & workpiece. Paddle switch. Paddle switch w/lock-on for better operator comfort and control. Compact design has a slim tool housing that comfortably fits in the hand.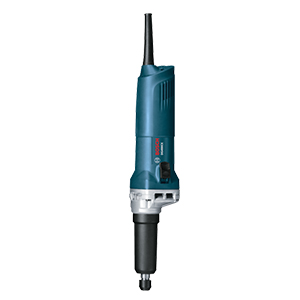 120 V Variable Speed Die Grinder
Ideal for sanding, grinding, or cutting. Constant Response™ circuitry provides Soft Start, maintains constant speed under load, provides overload protection.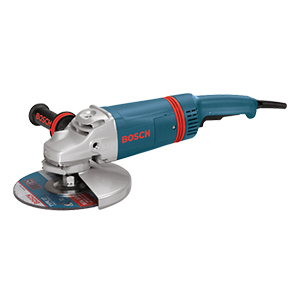 7 In. 15 A Large Angle Grinder with Rat Tail Handle
The Bosch 7 In. large angle grinder has a powerful 15 Amp motor. It's durable enough for the most demanding jobs. It features vibration control technology. This increases user comfort for extended periods of work.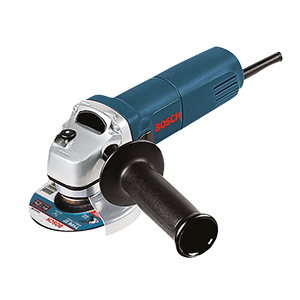 4-1/2 In. Angle Grinder
The Bosch 4-1/2 In. Angle Grinder features a powerful 6.0-amp motor that produces 11,000 no-load rpm, making this compact grinder a powerhouse tool. It was designed for concrete contractors, vehicle fabricators and other professionals who need a compact grinder. With a well-designed grip, lock-on slide switch, two-position side handle and 11,000 no-load rpm, this workhorse can get the job done.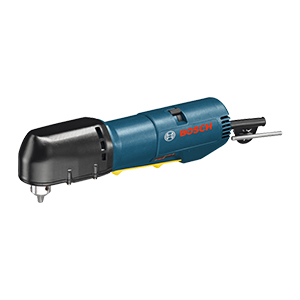 3/8 In. 3.8 A Keyed Chuck Right Angle Drill
The right angle drill provides an industry leading low profile 3/8 In. chuck for drilling in tight spaces. The tool features 0 to 1300 RPM for optimized torque and drilling speed for the most demanding applications. The keyed chuck properly secures all intended accessories.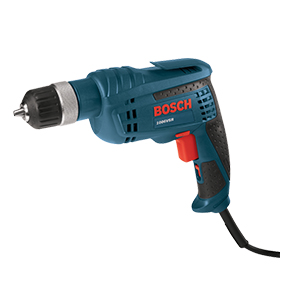 3/8 In. 6.3 A Jacobs Ratcheting Keyless Chuck Variable Speed Drill
The Bosch 1006VSR variable speed drill is rated best in class power-to-weight ratio. Equipped with service minder brushes. It automatically stops tool when brush replacement is needed. Improved lock-on switch design with recessed in handle to prevent accidental lock-on.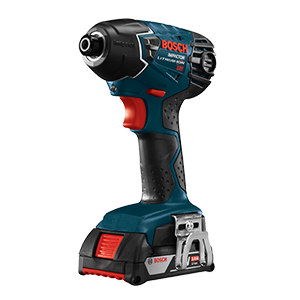 18 V Impactor™ Fastening Driver
Bosch offers the most durable cordless tools in their class. The Bosch 25618 impact driver offers the most compact design for increased maneuverability in tight spaces and extended comfort.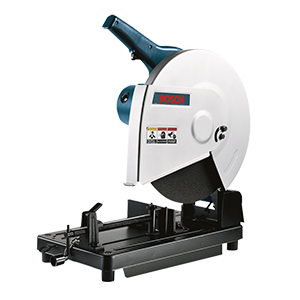 14 In. Benchtop Abrasive Cutoff Machine
The 14 In. abrasive cutoff machine is designed for heavy-duty use and long-lasting durability. Its powerful 15 Amp motor delivers 3,100 RPM, and the unit features cut and hardened steel helical gears. With a fence that bevels from 0 to 45 degrees, an adjustable depth stop for maximum control, and a spindle lock for fast wheel changes, the Bosch 3814 is a must for any job site.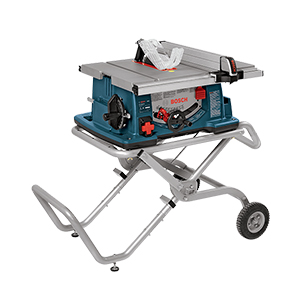 10 In. Worksite Table Saw with Gravity-Rise™ Wheeled Stand
The Bosch 10 In. Worksite Table Saw with Gravity-Rise Wheeled Stand delivers both professional rip capacity and outstanding portability for a tool that can get the job done, wherever it is. The SquareLock Rip Fence is engineered for maximum trueness and great ease-of-use, with the fence able to easily glide along the rail for one-handed operation.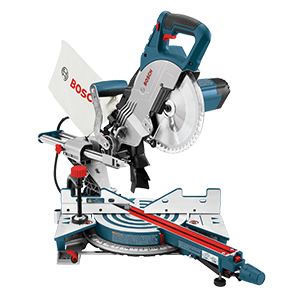 8-1/2 In. Single-Bevel Slide Miter Saw
The 8-1/2 In. single bevel sliding compound miter saw features a Bosch exclusive design delivering a well-balanced saw with a top carry handle at the center of gravity and weighs only 37 pounds. These features easily provide one-handed portability on and off the job. Accessible controls make it easy to change bevel settings without reaching behind the saw.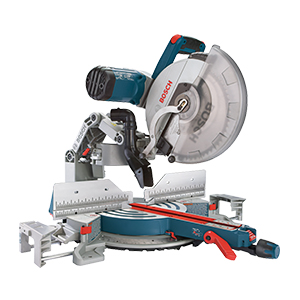 12 In. Dual-Bevel Glide Miter Saw
The Bosch-exclusive Axial-Glide™ offers wider cross-cuts, enhanced alignment and smooth glide for the life of the tool. The Bosch miter saw's 15 Amp motor delivers no-load speeds of 3,800 RPM for quick, accurate cuts in many materials. For added convenience and versatility, the saw is compatible with a variety of 12 In. blades and it has a clear lower guard to provide unobstructed cut-line visibility.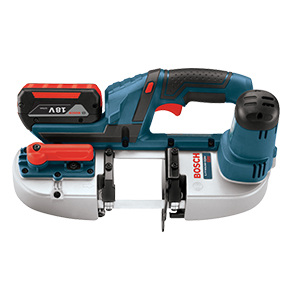 18 V Compact Cordless Band Saw
The Bosch 18 V cordless compact band saw is up to 60% lighter that deep cut saws and up to 40% more compact. It's cutting capacity of 2-1/2 In. x 2-1/2 In. is ideal for the most common materials that electricians, plumbers and contractors work with. The flexible power system allows you to choose from a fat pack or slim pack battery.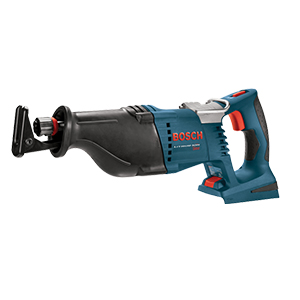 36 V Lithium-Ion Reciprocating Saw
The Bosch cordless reciprocating saw is the only saw in its class with a rafter hook, for easy placement when cut is finished. Two speed settings, one at 0-2,400 SPM and one at 0-3,000 SPM. Soft-grip handle provides increased comfort and control for a longer use. Spring-loaded battery insertion, makes it a snap to engage and replace battery. The collar uses a great ergonomic grip, giving better control to the user.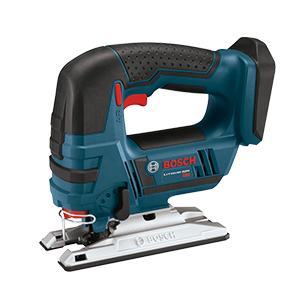 18 V Lithium-Ion Cordless Jig Saw
The Bosch lithium-ion 18-volt jig saw is compact and lightweight. Its T-shank blade change system allows the user to insert the blade just without the need for any tools, and when it's time for a blade change, a turn of knob ejects the blade, so there is no need to touch a hot blade. This jig saw also features an always-on blower and integrated LED light for enhanced visibility in the cutting area.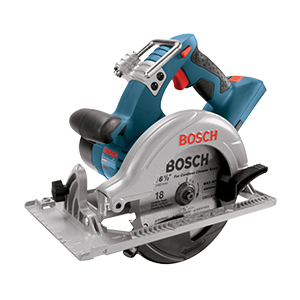 36 V Cordless 6-1/2 In. Circular Saw
The professional heavy-duty cordless circular saw is top of the category boasting 26% longer runtime than the closest competition. The most power for tough applications and the industry's most advanced Lithium-Ion battery technology, Lithium-Ion. Bosch engineers optimized the 1671's motor with innovative Lithium-Ion battery technology to achieve 26% longer runtime over competition.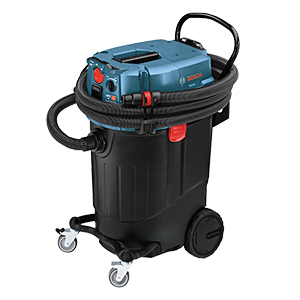 14-Gallon Dust Extractor with Auto Filter Clean and HEPA Filter
The Bosch 14-Gallon Dust Extractor with Auto Filter Clean and HEPA Filter provides a complete package that is designed to help users move toward compliance with the OSHA silica dust regulation. The dust extractor delivers a maximum 150-cubic-feet-of-air-per-minute rate (CFM), with a sustainable 97 In. static water lift (maximum).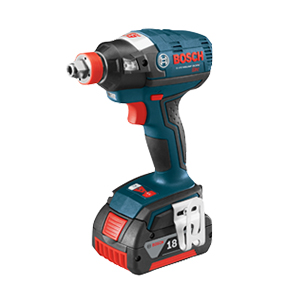 18 V EC Brushless Socket Ready Impact with 1/4 In. Hex and 1/2 In. Square Drive
The impact driver features the Socket Ready all-in-one tool holder, which combines a 1/4-inch hex and 1/2-inch drive into one for ultimate versatility to complete a wider range of applications. The Socket Ready all-in-one tool holder eliminates the need for users to own an impact driver and impact wrench and also eliminates the need for fragile socket adapters.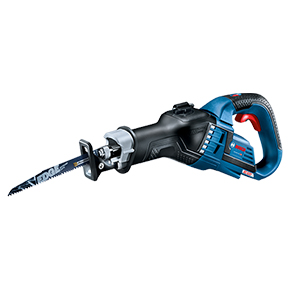 18V EC Brushless 1-1/4 In.-Stroke Multi-Grip Reciprocating Saw
The Brushless 1.25 In.-Stroke Multi-Grip Reciprocating Saw is the first cordless recip saw with orbital and non-orbital sawing action for superior cutting in materials from wood to metal. It is engineered to be the most effective 18V demolition recip saw available. With an innovative and easy-to-handle angled-motor design, it has extremely versatile ergonomic multi-position grip areas with soft-grip.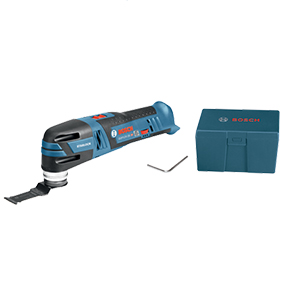 12 V Max EC Brushless Starlock® Oscillating Multi-Tool
The Bosch 12V Max Starlock® Oscillating Multi-Tool features the Starlock® next-generation 3-D tool-accessory interface. This cupped and contoured 3-D tool-accessory connection delivers greater torque transfer. The efficient 12V Max EC Brushless motor delivers a top speed of up to 20,000 oscillations per minute, with great runtime. The tool has a 2.8° oscillating arc for outstanding productivity.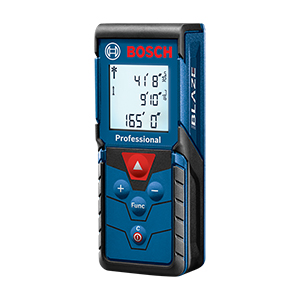 BLAZE™ Pro 165 Ft. Laser Measure
The Bosch BLAZE™ Pro 165 Ft. Laser Measure is a fully featured yet simple-to-use tool. It provides an easy-to-read backlit display that illuminates the measurements, and it delivers real-time distance, distance, area, volume and indirect measuring functions. It has a 10-measurement storage capability. This measure has addition/subtraction functionality, so the user can add or subtract measurements.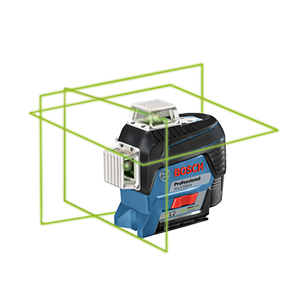 360⁰ Connected Green-Beam Three-Plane Leveling and Alignment-Line Laser
The 360° Connected Green-Beam Three-Plane Leveling and Alignment-Line Laser provides an all-in-one level and alignment solution for one-person job setup. The leveling laser generates three green-beam laser chalk lines in 360° laser planes – one horizontal and two vertical. With Bluetooth® connectivity, users can control the setup of the laser from across the room with their smart phone and the free Bosch Leveling Remote App.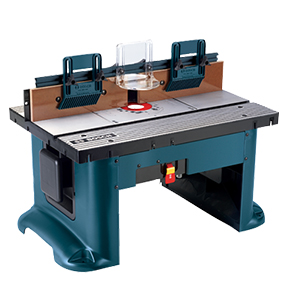 Bench Top Router Table
The Bosch RA1181 router table offers the durability and accuracy that professionals and woodworkers expect from Bosch engineering.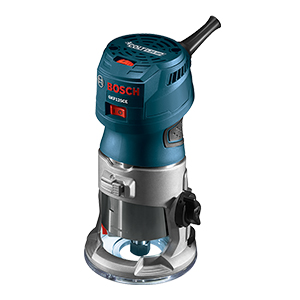 Colt 1.25 HP Variable-Speed Palm Router
The Bosch Colt variable-speed palm-grip router with 1.25 horsepower lets you feel the power in your hand. This router has an ergonomic palm-grip design with soft-grip to make it very comfortable to hold, making it typically more convenient to use than larger routers. But it also has ample power, with a 1.25 HP (max) rating.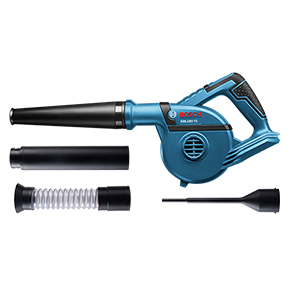 18V Blower
The 18V Blower is a powerful, convenient cordless blower that provides high air force at a compact size. It provides robust operation, with a 71 cubic-feet-per-minute (CFM) rating and air speed of 167 mph, to work quickly. It comes with a variety of nozzle choices. It has two speeds for enhanced control, and it has an outstanding power-to-weight ratio.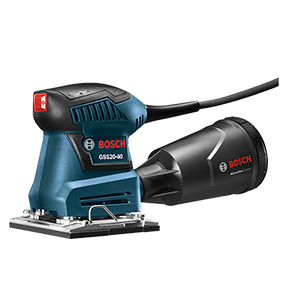 1/4-Sheet Orbital Finishing Sander
The 1/4-Sheet Orbital Finishing Sander delivers even sanding and long tool life, with a precision-machined aluminum sanding plate. It has a beefy 2.0-amp motor that produces up to 12,000 oscillations per minute (OPM), delivering uniform and smooth results on all surfaces. This tool incorporates low-vibration engineering for user comfort and for enhanced tool life.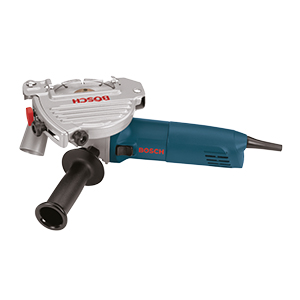 5 In. Tuck Pointer Grinder
Perfectly suited for the professional tuck pointer. Designed specifically for removing brick mortar. Powerful 8.5 Amp 11,000 RPM motor. Specially designed guard system for Guidepoint applications with dust extraction meets and exceeds UL®, OSHA and NIOSH standards.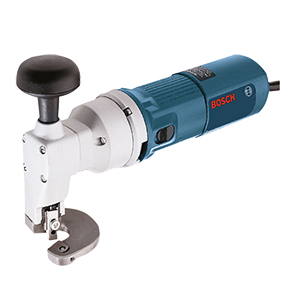 14 Gauge Unishear
The Bosch 1506 unishear features a planetary gear drive the gives you more power per pound. It is lightweight and well balanced for excellent control. The mushroom top handle allows for extra control under heavy cutting loads easily removed for cutting in confined areas. Low vibration for operator comfort.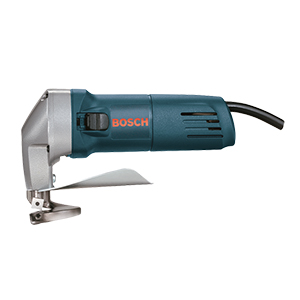 4.2 A 16 Gauge Shear
Ideal for sanding, grinding and cutting. Visible quality from start to finish. Low vibration for operator comfort. Visible blade allows precise pattern cutting extends blade life.