One of the latest design trends — for both interior and exterior projects — is the use of stone veneer. These innovative products, which combine art and science to replicate natural stone, make it simple to recreate the character and charm associated with stone. While stone veneer offers the durability and look of real stone, it also provides several advantages.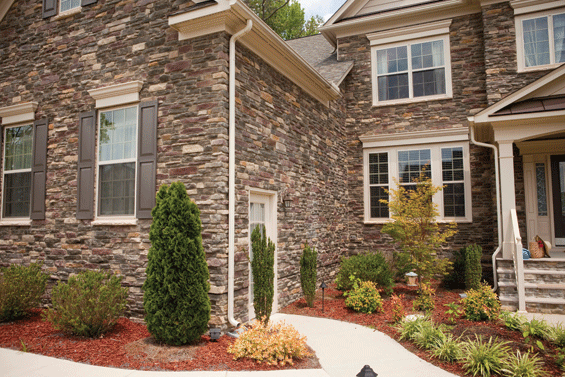 Manufactured stone veneer is an exact replica of natural stone that can instantly add a distinct look to any design project. An ideal concept for many architectural structures, veneer is suitable for walls, fireplaces, wine cellars, backsplashes, cooking niches, pergolas, outdoor entertainment areas and more. The "stones" are cast in flexible molds and hand colored with iron oxide pigments. Veneers are approximately one-quarter to one-third the weight of full-thickness stone and can be adhered to most wall surfaces.
With today's modern technology, veneer looks as natural as real stone — at a fraction of the price. Innovative technology assures the authenticity of the product with attention to details such as rich textures, shadows created by deep undercuts, and integrated color throughout the stone. Product research is done to recreate stone styles that are realistic and authentic to different geographical regions.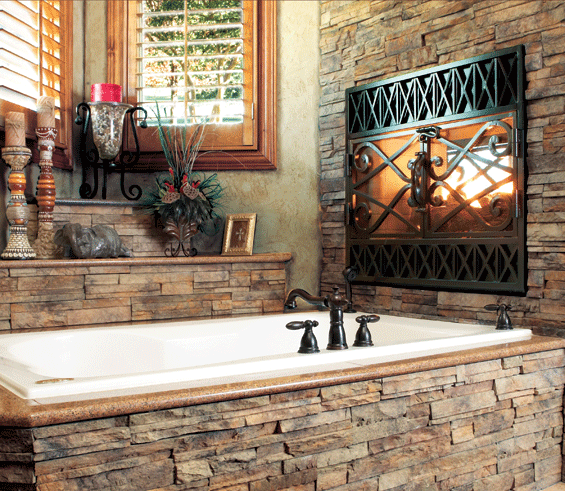 Other properties that make veneer an ideal choice include the weight and quicker installation time, which ultimately also affects the price. Veneer is lighter and easier to install, while natural stone is heavy and difficult to transport and install. No footers or wall ties are needed during installation because the product is not as heavy as natural stone.
With natural stone, time is needed for the stone to set and stabilize; however, stone veneer is light and requires no down time during installation. In fact, the flat profile allows the installer to apply the stone directly to the surface without cutting or removing parts of the stone, which means there is also a smaller waste factor with veneer than natural stone.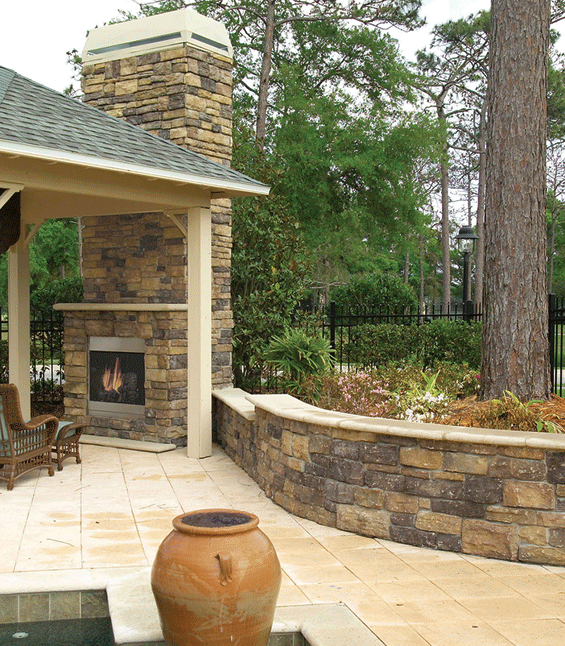 Although most people rely on a professional to install stone veneer, this can be a do-it-yourself project for homeowners. Mortar is used to set the stone and a circular saw with masonry blade is needed for cuts. Grout is used between the stone to bring the stonework together. Beyond the practical function of the grout, it is also important to the visual appearance of the finished stonework. There are several different techniques for applying grout, with each one providing a unique look. Accessories and accent pieces, which are used to showcase a completed project with a professional and finished appearance, include corner pieces, windowsills, capstones, hearthstones and switch boxes.
Stone veneer is available from Arroyo Building Materials in a wide selection of styles and colors to complement any architectural style ranging from traditional to contemporary. Styles include, but are not limited to: ledgestone, a collection of stone with eroded surfaces and jagged edges that give a dramatic and ancient feeling; dry stack, a collection of carefully selected stone with varying thicknesses designed to fit together; stack stone, long and narrow stones with square edges that provide a modern look; limestone, chiseled squared and rectangular surfaces that create a rough surface that mimics quarried limestone blocks; fieldstone, deeply textured and irregularly shaped stone that is reminiscent of an Italian villa; and river rock, a collection of smooth and randomly shaped rounded stones inspired by stones found in rivers and streams. To produce a unique design that adds extra depth and richness to a project, consider combining two different styles to create a one-of-a-kind look.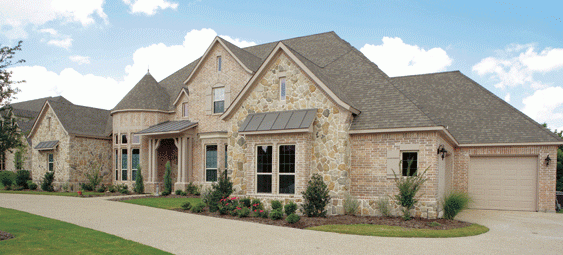 How resilient are these products? Changing weather conditions have no adverse effect on veneer stone, and the color does not fade with exposure to environmental conditions. Stone veneer is also incredibly durable — with some companies offering 50-year limited warranties. Once installed, veneers are maintenance free and do not require painting, coating or sealing. As manufactured stones are non-absorbent and non-porous, they can be easily maintained and cleaned using a mild detergent and soft bristle brush.
Arroyo Building Materials have a wide selection of stone veneer products including Eldorado Stone, Coronado Stone, Lompoc Stone, Sydney Peak Stone and much more.
Courtesy of cy-fairlifestylesandhomes.com